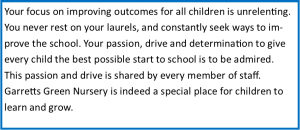 We are pleased that our OFSTED Short Inspection Report has been published on the OFSTED website and you may read it there now, if you wish. We hope that you received your copy and that are all as pleased as we are with the outcome. We are very grateful that the Inspector was so very astute and acknowledged the family ethos that we believe makes our school such a lovely place to learn and grow (for grown-ups too!)
Your children are used to having visitors and either ignored the Inspector or chatted freely to her. They were their usual, natural, confident, wonderful selves!
We know that lots of parents completed questionnaires and spoke to the Inspector and we were very moved by the kind words and comments, as well as your good wishes. Thank you.