1946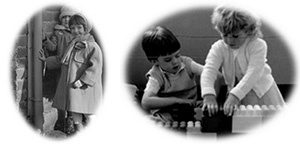 Opened in 1946 with fifty children supported by a head teacher, teacher and two assistants, Garretts Green Nursery School was built as part of the post-World War 2 local regeneration.
Our dedication to providing the best learning opportunities for young children is the thread that ties the past to the present day.
2008
A Children's Centre opened alongside the school, providing a wide range of services for families in the local community.
2010
The Forest School was developed on land donated by Birmingham City Council.
2012
A Sensory Room was built in the Nursery garden.
2013
A Resource Base was opened to support the development of children with additional learning needs.